WEEE Regulation
The Waste Electrical or Electronic Equipment (WEEE) Directive requires countries to maximise separate collection and environmentally friendly processing of these items. In the UK, distributors (including retailers) must provide a system which allows all customers buying new electrical equipment the opportunity to recycle their old items free of charge. Those establishing their own take-back scheme must as a minimum offer all customers buying new electrical equipment free take back of their old electricals on a like-for-like basis.
Find more information on WEEE recycling, and locate your local recycling centre, at http://www.recyclenow.com
Disposing of an old appliance in a safe and environmentally friendly way can be a real challenge. If you are replacing an old appliance, the last thing you want is your old one still in the house, and sometimes even moving it can be a problem. That's where we can help.
Why Recycle?

Unwanted electrical equipment is the UKs fastest growing type of waste.

Many electrical items can be repaired or recycled, saving natural resources and the environment. If you do not recycle, electrical equipment will end up in landfill where hazardous substances will leak out and cause soil and water contamination – harming wildlife and also human health.

How Smiths TV can help

We are pleased to offer our customers the chance to recycle their old electrical items.

We can offer a collection service, to be undertaken at the same time as we deliver your new appliance(s), for this we need to make a small charge. Please note that our Collection Charge is for the transportation and collection of your old appliances, We Do Not Charge For Recycling.
Alternatively, you can return or send your old electrical appliance to Smiths TV 114 Manchester Road, Southport, PR9 9BJ; please note, you must pay for any costs incurred in returning your old appliance to us.
If you have purchased from our store, we also offer free in-store take back of your old electrical items on a like-fo-like basis. We can only accept items that fulfil the same function as the new item being purchased. You must return your old item to our store within a reasonable period of time following your new purchase.
We will make sure your old appliance is disposed of in an environmentally friendly way and in accordance with our obligations under the Waste Electrical and Electronic Equipment Regulations.
Please note:
1. If you are recycling a product that holds personal data (e.g. laptop, PC etc) you will need to have removed the information from your old product prior to us receiving it as we will not carry out any data removal.
2. If you have purchased an installation or recycle service then please ensure your old appliance is disconnected prior to delivery. If you have a refrigeration product it must be fully defrosted and free of water. Where appropriate, your appliance should be disconnected by a qualified engineer e.g. only Gas Safe Register approved engineers should disconnect gas and dual fuel cookers.
3. This service only applies to like-for-like products.
Local Recycling Services
If you have a small portable item to recycle or can move your old appliance yourself, you should first make sure that the item can be recycled. To do this, just look for the crossed-our wheelie bin symbol on the packaging or product. This means that you should either send the product to be repaired and reused or take it to your local recycling facility. The staff there will make sure everything is disposed of responsibly and in a way that does not affect the environment. There is no charge for this service.
Crossed out wheeled-bin symbol
To remind you that old electrical equipment can be recycled, products are now marked with a crossed out wheeled-bin symbol. Please do not throw away any electrical equipment in your normal waste bins.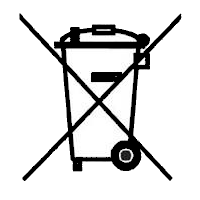 If you wish to read further detail about our responsibilities for electrical waste please follow the below link to the government website.
https://www.gov.uk/electricalwaste-producer-supplier-responsibilities